Garage Door Springs
Back To Our Services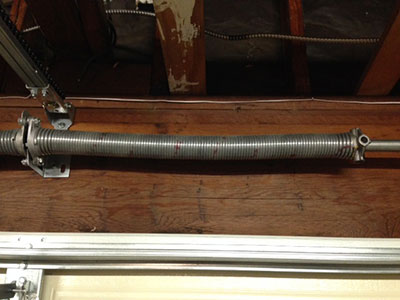 There are extension and torsion garage door springs and although both types have exactly the same mission, they work in a different way. Their mission is to open the door, keep it close and help it remain open at any height. They manage to do that thanks to the power stored among their coils. Extension garage door springs stretch out as the door is closing down and as the coils are stretched, they hide a lot of energy which is used for the opening of the door. On the other hand, the power of torsion springs comes from the torque developed as the spring winds and unwinds on one side. There is a winding cone at one end which spins as the other side remains stationary. Torsion springs remain stable thanks to a shaft, which runs through the spring and connects with the two cable drums at the two ends of the door.
Excellent torsion and extension spring services
It is the pride of Garage Door Repair Arden Hills to have a team with great knowledge of springs. As some of the most important parts of the entire garage system, springs make the difference to your day to day convenience and safety and so are our services. Due to their significance, our spring related garage door repair services are critical. There is a reason why we are so fast when spring issues are involved. They can be very dangerous if they snap and we like to prevent them from breaking by maintaining them the right way and taking care of their problems with speed.
We fix garage door torsion spring issues as fast as we can and have specialized knowledge of all needs related to extension springs. Our assistance is not valuable only when springs are broken. As a matter of fact, we can even be more useful before springs snap since we can evaluate their condition and replace them before they break and jeopardize your safety. Of course, we are available for broken spring replacement and make sure the new springs are the ideal ones for the door's weight. Our professionals do have amazing experience with both extension and torsion spring systems, Clopay torsion springs and all brands. In spite our expert knowledge, we do pay attention to every little detail during spring services in order to ensure perfect services and safety for you.
If you need more information about our spring services, do contact us!